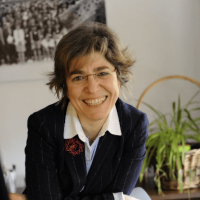 Professor Francisca G. Caballero
Cooperating Society Governor
National Center for Metallurgical Research (CENIM) , Spanish National Research Council (CSIC)
Avda Gregorio del Amo, 8. E-28040 Madrid, Spain
Prof. Ms. Francisca G. Caballero is Research Professor at the Spanish National Centre for Metals Research (CENIM-CSIC) since 2018. She obtained her Ph.D. in Physics from the Complutense University of Madrid in 1999 for studying solid-solid phase transformations in steels during reheating. From 1997 to 2000, she worked as a research associate at the University of Cambridge in UK on the design of carbide-free bainitic steels. She has held a visiting scientist position at the Oak Ridge National Laboratory in Oak Ridge-TN-USA since 2004. Additionally, between September 2013 and October 2014 she has been the Deputy Director of Science at CENIM, and Vice-Rector for Postgraduate Studies and Research at Menendez Pelayo International University (UIMP) between October 2014 and December 2018. From 2018 to 2021 she has worked for Elsevier Inc as Editor-in-Chief of the Encyclopedia of Materials: Metals and Alloys published by in 2021, a collective work of 4 volumes, 8 sections and around 2500 pages.
Prof. Caballero's current research objective is to understand the relationship among the steel processing, its structure and its mechanical properties. In this regard, she investigates the transformation mechanisms, characterize the structure of the material from the micro to the nano-scale and develop simulation tools that allow describing the physics and chemistry that govern the processes of transformation of steel and its properties under real conditions of use.
She has coordinated and participated in different European and Spanish research projects. She has published more than 200 articles in journals included in the SCI, her works have been cited in more than 9600 articles and she presents an h-index of 49 according to the Scopus database. She is the co-author of three patents on advanced steels and has supervised undergraduate, master and pre-doctoral students.